A US Navy ship will reportedly host military personnel from the Five Eyes countries plus Japan and South Korea to monitor foreign vessels delivering fuel to the North in violation of UN sanctions.
.
The coalition will include the US, the UK, Australia, New Zealand and Canada Americas partners within the Five Eyes intelligence-sharing alliance as well as Japan and South Korea, the Wall Street Journal reported, citing an American military official. This is apparently the first US-led effort to track fuel deliveries to North Korea.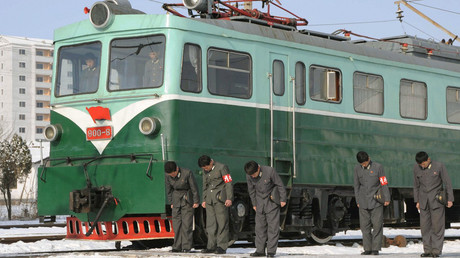 The coalition countries will contribute warships and military surveillance aircraft to track maritime traffic in the area. USS Blue Ridge, the command ship of US Navys 7th Fleet stationed in Yokosuka, Japan, will host over 50 multinational personnel.
Additionally, a so-called Enforcement Coordination Center has been created on the Blue Ridge to man monitoring operations. The WSJ says this will ensure more bridge-to-bridge communications between allied ships and other vessels.
However, the move is not free of setbacks, WSJ notes. Japan and South Korea are reluctant to share intelligence with each other, while Seoul has its own disagreements with Washington. Also, the US Indo-Pacific Command, the body in charge of the coalition effort, has little experience in running multinational operations.
The story has emerged as the US tries to tighten its grip on North Korea despite both countries having sought to mend ties after the milestone Trump-Kim summit in Singapore last July. Earlier this week, Washington called an urgent meeting of the UN Security Council in response to what it claims are efforts by some countries to undermine and obstruct sanctions imposed on North Korea.
Altho...